Welcome to our
Professors Support Center
Welcome to our
Faculty Support Center
We are happy you are here!
At CircleIn, we understand you are extremely busy and want to make finding information, helpful resources, and templates as easy as possible. Resources are organized by the level of engagement you are comfortable with. The more you do, the greater your outcomes, but you will see change just by encouraging students to connect on CircleIn. How much you do, is completely up to you. We also have further FAQ resources at the bottom of this page.
CircleIn Faculty Awareness
Introduce your classes to CircleIn to ensure students u

nderstand the value of CircleIn and utilize this exclusive tool.
Share the CircleIn login link (app.circleinapp.com) and the 'Get Students Started on CircleIn' video with your students.
Add an announcement into the LMS or insert the Canvas Commons CircleIn page.

Learn more about CircleIn with our Faculty One Pager & additional FAQs at the bottom of this page.
Faculty members who want basic information about getting CircleIn setup and running in their courses should utilize these resources. All faculty members should plan to complete Phase 1 prior to moving forward.
CircleIn Faculty Champions
Increase awareness and use of CircleIn to ensure students get the most help this term.
Watch the Fast Track video to understand more about CircleIn and its benefits for your students.

Look out for our faculty exclusive, biweekly Faculty Newsletters in your inbox. These newsletter share updates and specific information about which of your CircleIn courses are succeeding or need some extra help.
Share our Student Support Center with your students to make sure all of their questions are answered.
Our contests and reward programs.
Our contests and reward programs.
Become a
CircleIn Fellow
Become a CircleIn expert and fan!
Share a faculty testimonial with us! Record or write a brief testimonial of you saying why you love CircleIn for your students and email it to laura.mooney@circleinapp.com.

Complete this survey to provide feedback on how we can further improve CircleIn.
Learn more about our rewards and contests for your students here.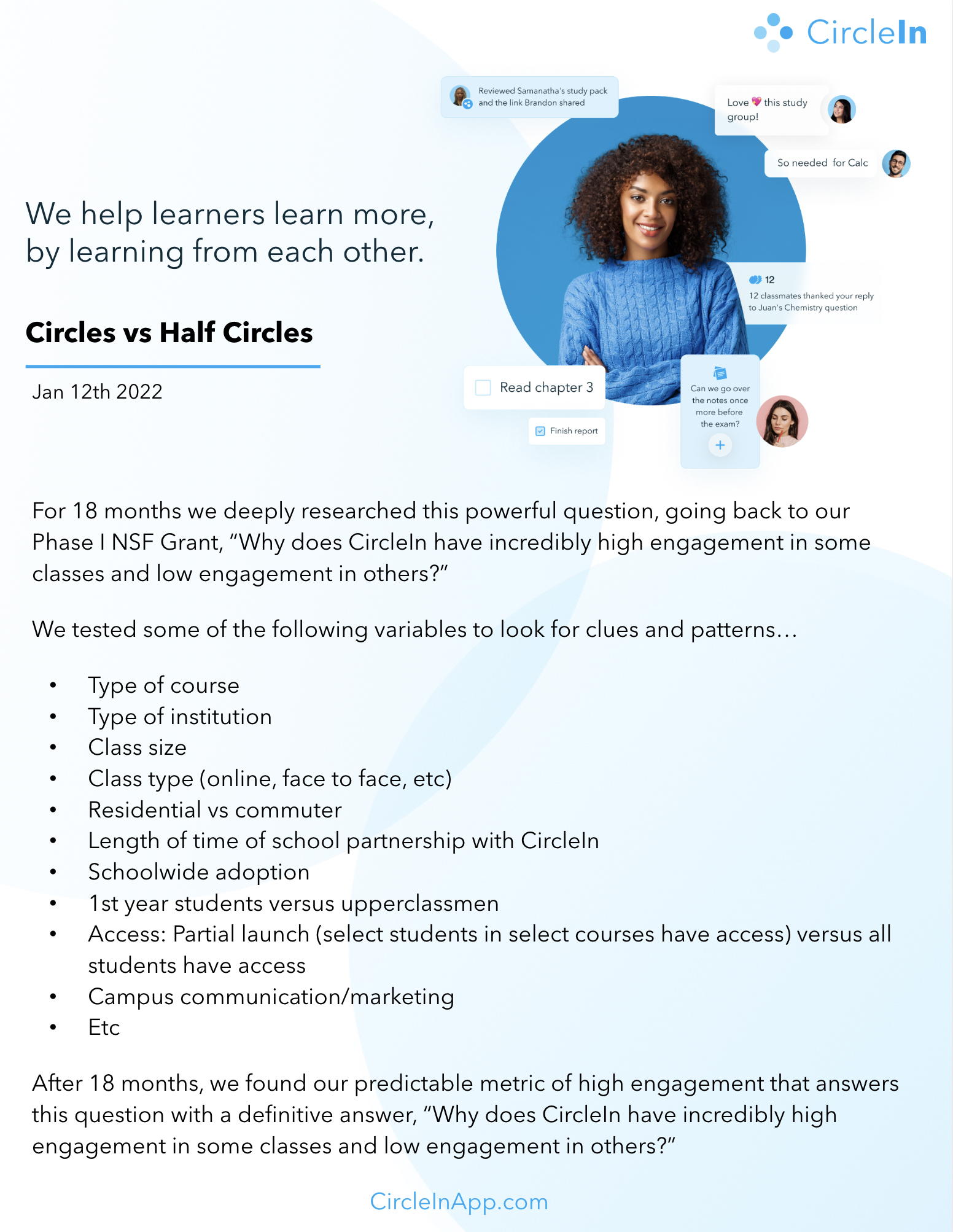 H
elp us keep your students engaged and successful
Our mission is to turn 'half circles' into 'full circles' to increase student learning and success.
We have found the main catalyst for highly successful CircleIn use in schools are when there are 'Circles', which are 'a collaboration ready network due to 10 or more students in a course active on CircleIn.'
Your exclusive Faculty Newsletter will be delivered biweekly straight to your inbox! You can find specific information about your CircleIn courses and how to 'close the circles' to improve student belonging.